ABOUT KRAV MAGA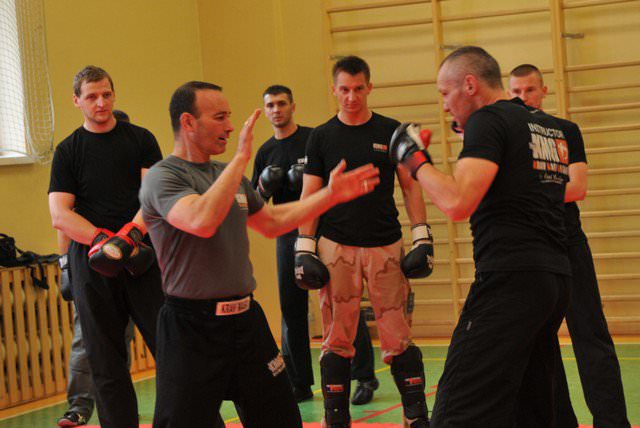 Krav Maga, Hebrew for 'contact combat,' was developed as an unarmed combat system by Imi Lichtenfeld (a.k.a. Imi Sde-Or). It is also used by the Israeli Defense Forces (IDF) and has been adopted by several military and law enforcement units around the world.
Krav Maga in its modern form was developed by Eyal Yanilov, Imi's foremost student and currently chief instructor of KMG, to meet the needs of civilians, military and law enforcement officers, and security personnel. It is widely recognized as the most comprehensive reality-based self-defense system in the world today.
Because Krav Maga is designed to be a practical system of self-defense and fighting, it does not contain traditional or sporting elements. Instead, Krav Maga focuses on how to avoid, prevent, deter, deal with, and ultimately escape all types of violent confrontations.
Krav Maga techniques are based on natural responses, while the system as a whole is built on principle-based learning. The result is a practical skill set that the average person can learn in a shorter span of time and use more effectively under stressful conditions.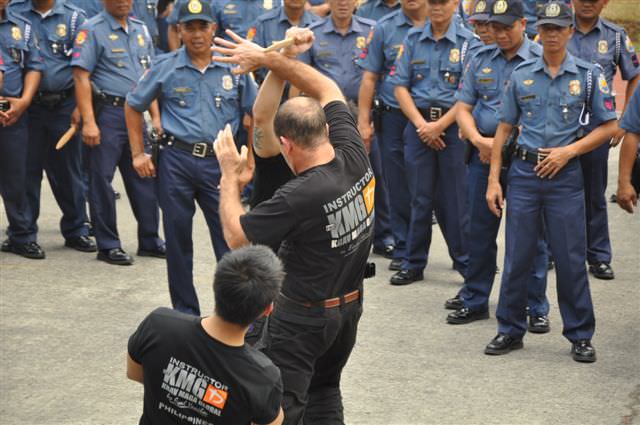 General Krav Maga training is adaptable to meet the needs of people of all ages, shapes, and sizes. On the other hand, Krav Maga also has specific curriculums for professional needs, including tactical training for Military Units, Anti-Terrorist Groups, Special Units, Undercover Officers, Close Protection Agents, Correctional Officers, Air Marshals, and much more.
ABOUT IMI LICHTENFELD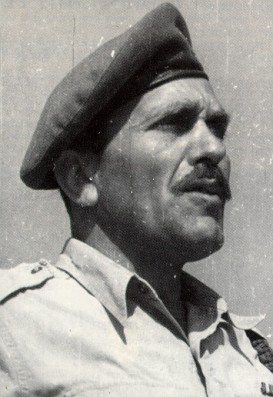 The creator of Krav Maga, Imi Sde-Or (formerly, Imrich Lichtenfeld), was born in 1910 to a Hungarian Jewish family in Budapest. He grew up in Bratislava, Slovakia where his father, Samuel Lichtenfeld, was Chief Inspector of Bratislava's Police Force.
Before working in law enforcement, Samuel Lichtenfeld was a former circus acrobat. As such, he also owned a gymnasium where many activities were taught, including self-defense. Because of his father's influence, Imi became a very successful boxer, wrestler and gymnast, competing at both national and international levels.
In the mid 1930's, anti-Semitic riots threatened the Jewish population of Bratislava. Imi became the unofficial leader of about a hundred Jewish young men, mostly boxers and wrestlers, who defended Jewish neighborhoods against racist and fascist gangs. Through these real-world experiences, Imi quickly understood that sport fighting had little in common with real combat.
Drawing from his knowledge — a combination of his father's activities and teachings, his training in fight sports, and his experience with real street conflicts — Imi began to develop his own methods for self-defense and street fighting, building on natural movements and reactions, combined with an immediate and decisive counterattack, to create effective combat techniques.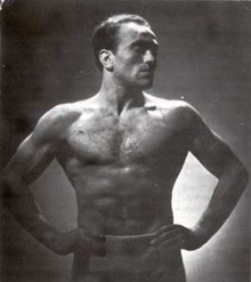 He taught these techniques to his fellow defenders, honing them as he went along. These were the foundations of what would become Krav Maga, a complete system of practical self-defense for various conflict situations.
In 1940, Imi fled the Nazi occupation of his homeland and headed for Palestine, then under the British mandate, on an illegal riverboat name Pentcho. The boat shipwrecked on the Greek Dodecanese Islands, but Imi and some other passengers were able to get on a lifeboat which took them to Egypt, then under British control.
In Egypt, he joined and served in the Free Czech Legion. After he was discharged, he made his way to Palestine, which was then also still under British mandate. There, he was quickly welcomed into Israel's pre-state Hagana military organization, as they recognized his fighting ability and ingenuity.
In 1944, Imi began training fighters in his areas of expertise: physical fitness, swimming, knife fighting, and defenses against knife attacks. During this period, Imi trained several elite units of the Hagana and Palmach (striking force of the Hagana and forerunner of the special units of the IDF), including the Pal-yam, as well as several groups of police officers.
In 1948, when Israel was founded and the IDF was formed, Imi became Chief Instructor for Physical Fitness and Krav Maga at the IDF School of Combat Fitness. He served for a total of 20 years, during which time he further developed and refined his unique method for self-defense and hand-to-hand combat.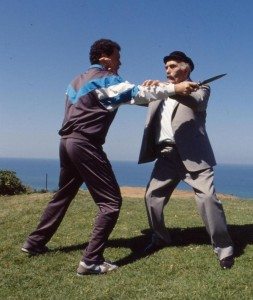 In 1964, after retiring from the army, Imi began adapting Krav Maga to meet the self-defense needs of civilians, opening two training centers in the cities of Tel-Aviv and Netanya. His methods were designed to suit everyone – male or female, young or old — enabling them save their life or survive an attack while sustaining minimal harm.
For the remainder of his life and until his final days, Imi continued to develop Krav Maga techniques, concepts, and instructional methods with the assistance of his closest student, Eyal Yanilov. Imi always took great care to promote his universal principles of respect for others, avoidance of undue or unjustified use of force, modesty, peace-loving conduct, and strict adherence to fair play.
Imi passed away in 1998 at the age of 88. He is remembered for his great legacy and is considered a key figure in the world of self-defense and martial arts.
For more about Eyal and the history of Krav Maga, follow this link.
KRAV MAGA TRAINING UNDER KMG
An essential part of KMG training is its structured teaching process and training methodologies. Our curriculum focuses on systematic skill development, whether it is for civilians, military and law enforcement units, or close protection personnel.
Krav Maga training includes:
How to prevent, avoid, escape and evade situations of conflict
Techniques to defend against both unarmed and armed threats and attacks
Dealing with falling, and defending yourself when on the ground
Dealing with multiple attacker situations, both unarmed and armed
How to defend other people (also known as third party protection)
Specific curriculums for governmental and security forces, including infantry, anti-terror units, law enforcement, peace-keeping missions, etc.
And much more…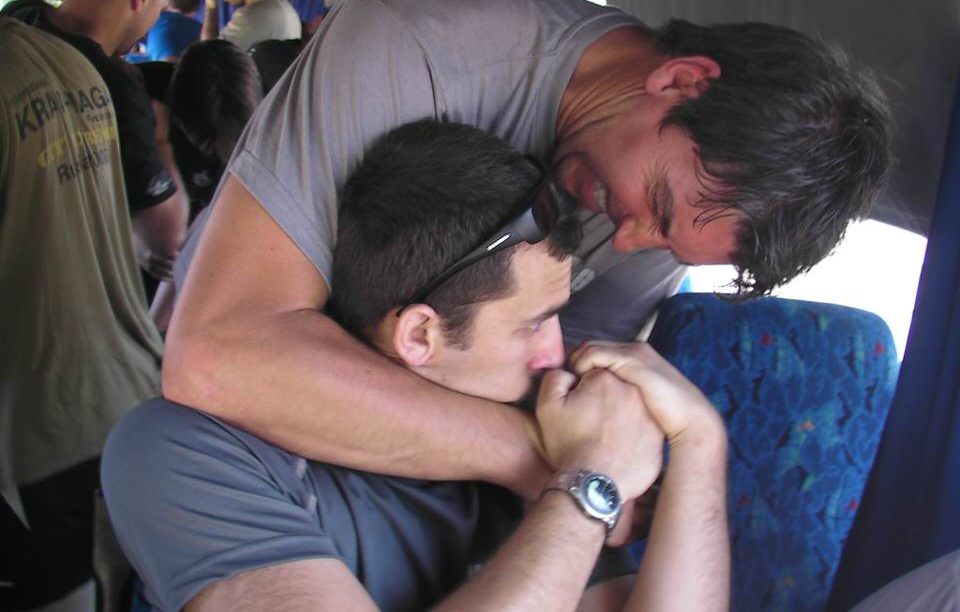 Moreover, Krav Maga techniques and principles are always be taught with the ultimate reality in mind. At KMG, we train our students to cope with all types of violent encounters and conflict situations in all types of environments (in crowded spaces, on uneven ground, in closed quarters, in the water, etc.) We also emphasize the need deal with conflict when in positions of disadvantage, such as sitting down, lying down, in moving transport, or with a companion to protect. Developing this mindset and ability to adapt is a key part of our training methods.
Personal Development: Life-Saving and Life-Changing Skills
It is widely known that Krav Maga enables personal growth from both a physical and mental perspective. People who train Krav Maga typically see vast improvements in their physical health and mental abilities, including their capacity to make decisions under stressful, fast-moving situations and to cope with demanding lifestyles.
In addition, students who train Krav Maga regularly develop greater self-confidence and courage in daily life. They also develop better mental discipline, which helps in dealing with everyday tasks and challenges that people normally face. As a side benefit, students also typically gain a supportive group of peers like no other, as they meet different people from all walks of like within the Krav Maga community.