捍卫和守护:保护所爱之人 Defend and Protect: Protecting a Loved One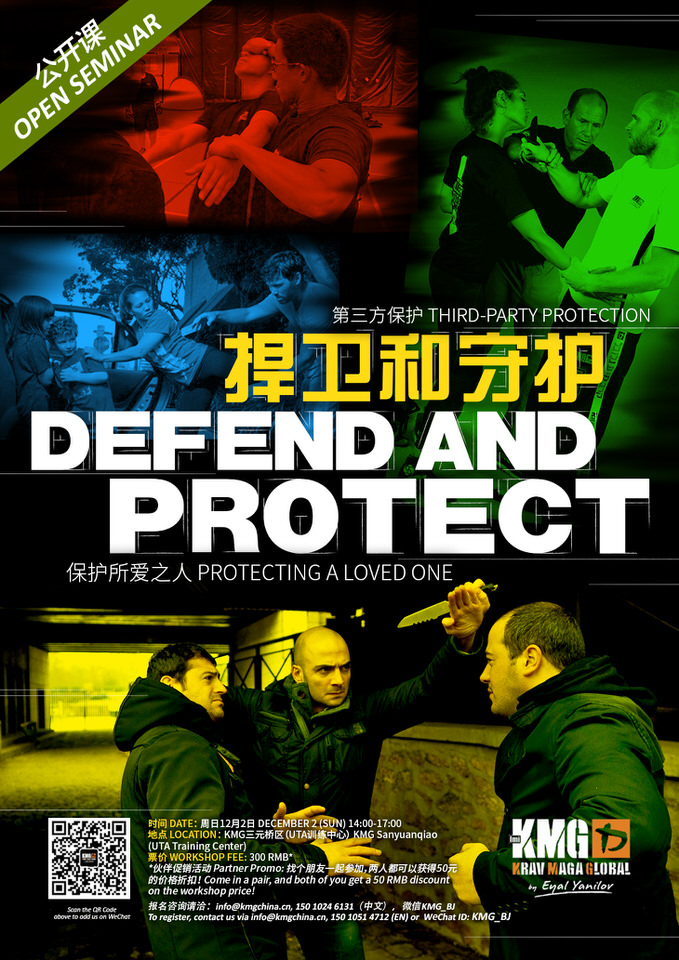 今年12月,KMG中国区主理人兼总教练Von主持马伽术之第三方保护工作坊!
This December, KMG China Director and Head Instructor Von Ng will host an Open Workshop on Krav Maga for 3rd Party Protection.
WHEN: 12月2日周日 December 2 (Sunday), 14:00-17:00
WHERE: KMG三元桥区(UTA训练中心 亚之杰中心) KMG Sanyuanqiao Studio (UTA Training Center, Yazhijie Center)
马伽术最重要的技术主题之一是保护第三方,无论是亲友还是客户(此处客户特指专业保镖的客户)。 在这次工作坊上,我们运用马伽术的技巧和原则,学习分别在赤手攻击和武装攻击的情况下,保护第三方,并且分析同一场景下不同的发展可能。
One of the most important topics in Krav Maga is protecting a third-party or VIP, whether it be a family member, friend, or a client (i.e. as in the case with bodyguards). In this workshop, we apply the techniques and principles of Krav Maga to defending a third-party against various unarmed and armed problems, as well as looking at different progressions of a problem.


// 你的收获 What to Expect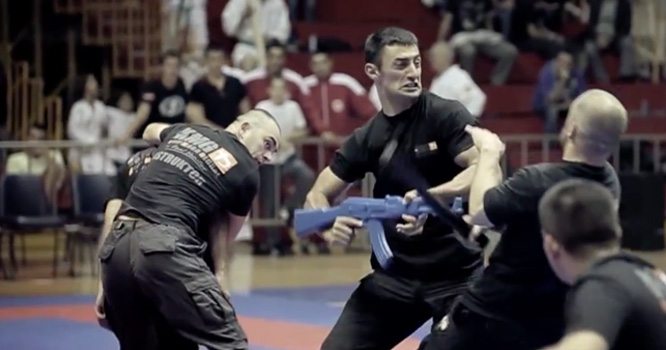 评估形势和战术决策 Assessing a situation and tactical decision-making
采取先发制人的行动,包括预防和提前疏散第三方 Pre-emptive action, including prevention and early evacuation of your VIP
应对徒手攻击(击打,拉拽,扼喉,控制等)Dealing with unarmed attacks (strikes, grabs, chokes, controls, etc.)
应对武器威胁与攻击 Dealing with armed threats and attacks
应对在地面时的情况 Dealing with situations on the ground
应对来自不同方向的攻击 Dealing with attacks from different directions
战术逃生与安排第三方撤离 Tactical escape and evacuation of your VIP

// 课程导师 Instructor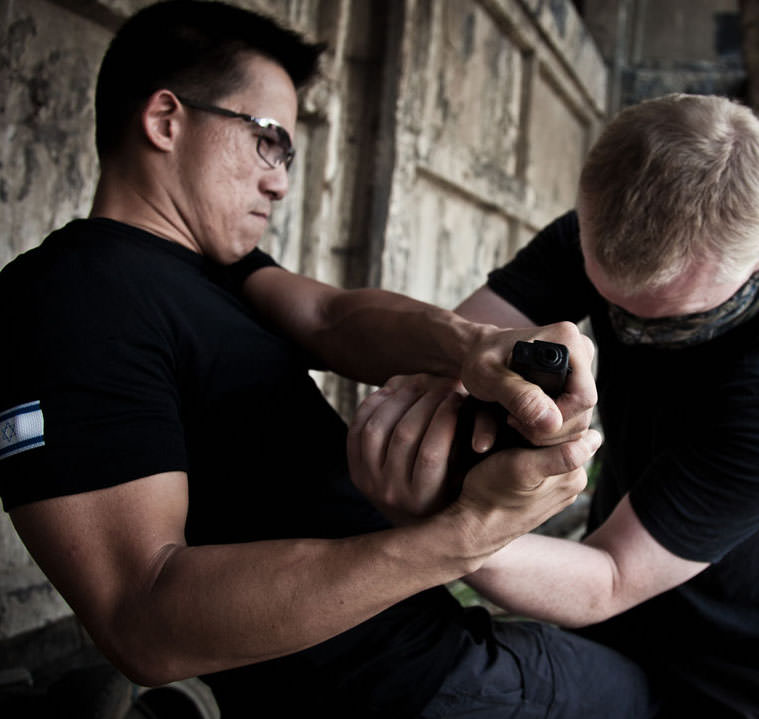 VON NG
E1级KMG教练,民用马伽术教练、SWAT特警马伽术教练、KMG中国区主理人
KMG Expert 1, KMG Civilian and Krav Maga SWAT Instructor
Von是KMG中国大陆地区的总教练、主理人。他是加拿大人,目前负责培养KMG教练,并监管中国大陆的业务。其马伽术之路始于2004年,并于2010年开始执教。他练过四年松涛馆空手道、十五年的极真空手道、五年菲律宾武术FMA。此外,他还是一位Balintawak Kali持证教练。
Von is the KMG Director of mainland China. A Canadian national, he is responsible for training KMG instructors, handling governmental and professional training, and overseeing operations within mainland China. Apart from Krav Maga, Von also trained four years of Shotokan Karate, and 15 years of Kyokushin Karate, and 5 years of Filipino Martial Arts (FMA). He is also a instructor for Balintawak Kali.


// 训练营详情 Event Details
日期 Date: 12月2日周日 December 2 (Sunday), 14:00-17:00
地点 Location: KMG三元桥区(UTA训练中心 亚之杰中心) KMG Sanyuanqiao Studio (UTA Training Center, Yazhijie Center)
工作坊价格 Fee: 300 RMB/人
伙伴促销活动 Partner Promo: 找个朋友一起参加,两人都可以获得50元的价格折扣!
Come in a pair, and both of you get a 50 RMB discount on the workshop price!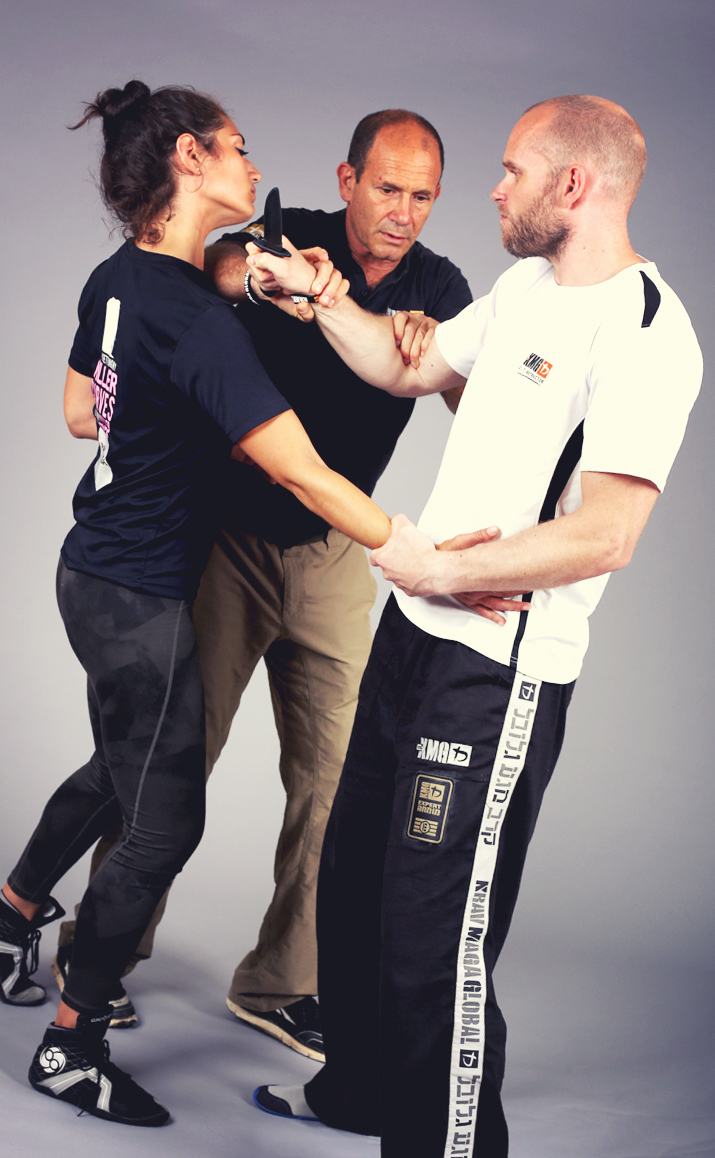 注意:参训者须年满十五周岁及以上,身体健康。机会难得,名额有限,报名请早。
Note: Participants must be 15 years and older to join. Spaces are limited, so please register early to book your place.
欢迎大家转给有需要的家人朋友,报名咨询请洽: info@kmgchina.cn, ‭150-1024-6131‬‬ (中文), 微信:KMG_BJ
To register, email info@kmgchina.cn or call/sms 150-1051-4712 (English) or through WeChat: KMG_BJ.
衣着与携带 WHAT TO WEAR AND BRING:
常规运动着装和运动鞋 Regular exercise attire and shoes
水、能量饮料 ,少许补充能量的小食 Water, energy drinks, and some light snacks
替换衣服(训练可能会出汗,请携带替换衣物)Extra clothes to change into (you will likely sweat during training, so please bring extra clothes as a courtesy to your training partners)
// 常见问题 FAQs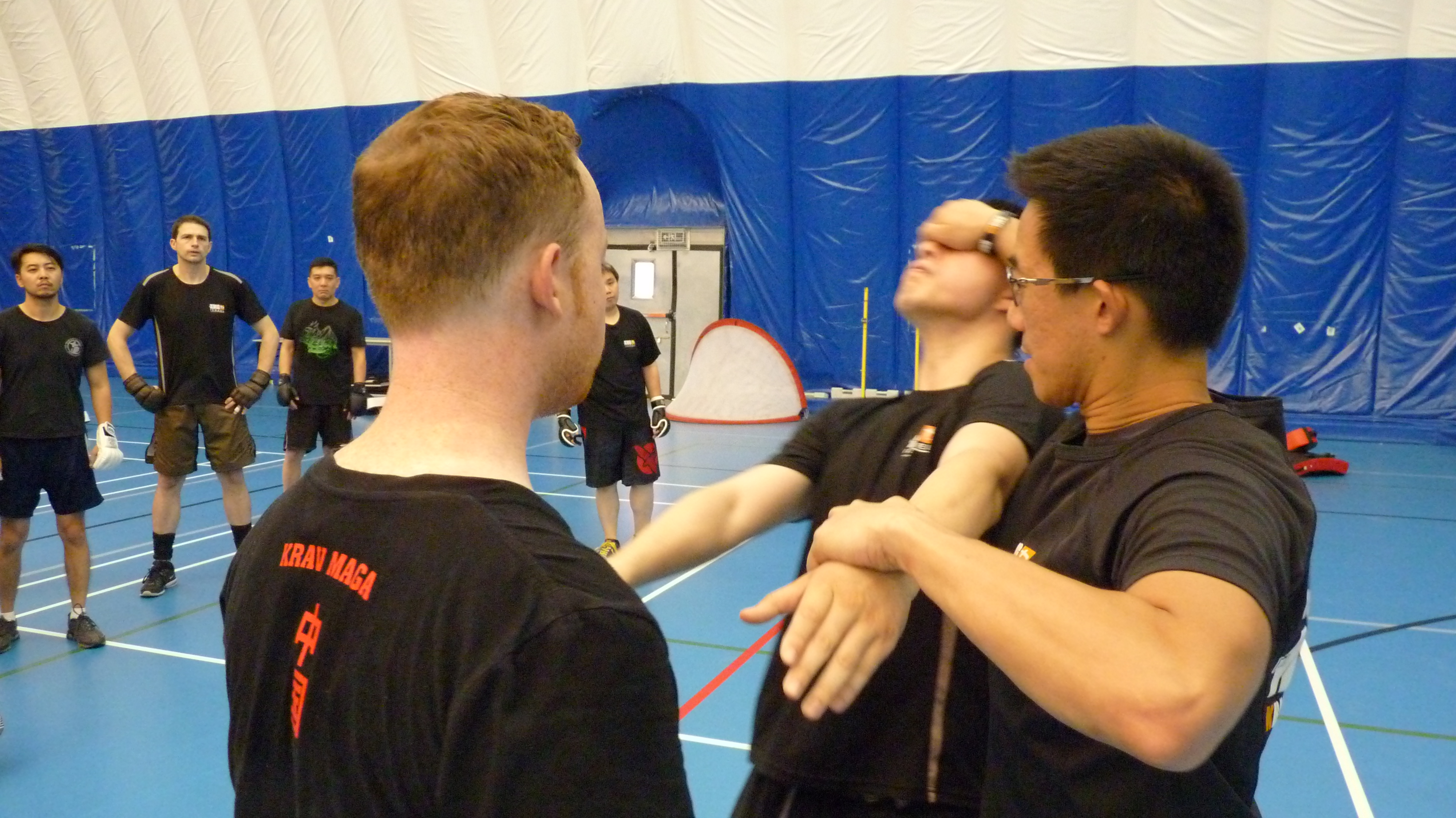 1. Krav Maga与搏击运动(MMA综合格斗技、搏击操、泰拳、散打等)或武术(功夫、空手道,跆拳道,柔道等)有何不同?
How is Krav Maga different from combat sports (MMA, kickboxing, Muay Thai, Sanda, etc.) or martial arts (Kung Fu, Wushu, Karate, Taekwando, Judo, etc.)?
Krav Maga并不是竞技/搏击运动、武术、或者表演运动。Krav Maga的目的是非常实用的自我防卫,而不是为了赢得比赛。练习它可以帮助你免于攻击或在攻击下幸存,并非为了赢得绶带或奖杯。因此,Krav Maga培训侧重于现实的场景和攻击,锻炼自卫的心态,培养面对攻击的技能。
Krav Maga is not a competitive or combat sport, nor it is a martial art, nor is it for performance. The goal of Krav Maga is practical and realistic personal protection, not lasting several rounds in a ring to win a fight. It is about preparing yourself so that you can prevent or survive an attack, not win a belt or trophy. As such, Krav Maga training focuses on realistic scenarios and attacks, developing the self-defense mindset, and developing the skills you need to survive an attack.
2. 精通Krav Maga需要多长时间?
How long will it take for me to become proficient at Krav Maga?
与武术不同,Krav Maga是让人上手很快的训练。其设计的部分初衷,就是需要迅速高效地训练人。因此,一个中等体能的人也能在几个月后取得显著进步。Krav Maga的基本思想就是让你在数周或数月内学到实用技能,而不用花费好几年。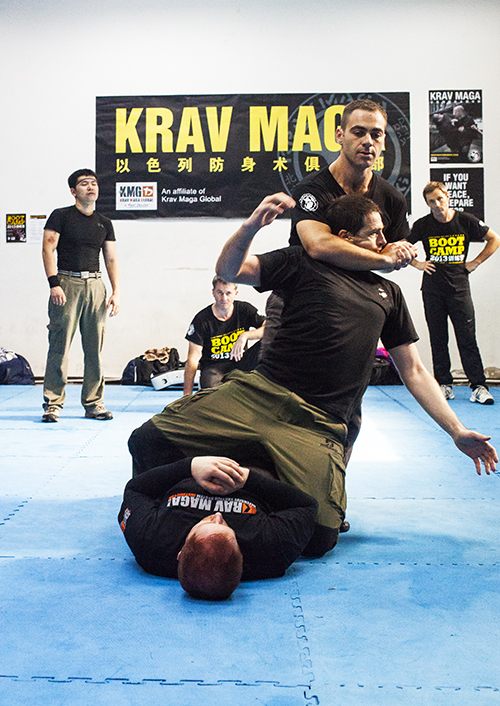 另外要注意的是,个人进步在很大程度上是基于持续的训练。一个中等体能的人每周训练四个小时以上,就可以在短短几个月内学会抵御常见的攻击。
Krav Maga, unlike martial arts, is a very fast-progressing system. Part of its design was driven by the need to train people very quickly and very efficiently. Consequently, it typically takes a person of average physical ability perhaps only several months before significant progress is achieved and noticeable. The fundamental idea in Krav Maga is that you can learn something usable in weeks or months, not years.
However, it is important to note that progress is largely based on consistency in training. A person of average physical ability who trains at least four hours a week every week can learn to defend against common attacks within a few months.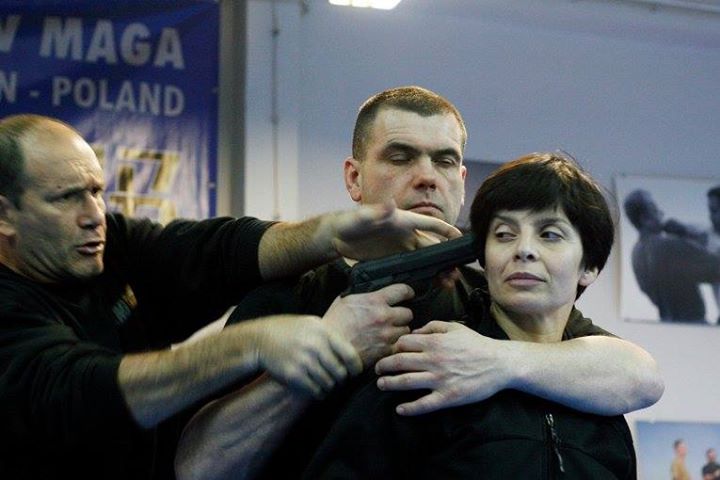 3. 参加训练会不会受伤?
Will I get hurt in training?
KMG的所有训练均以最高的安全标准、在安全可控的环境中进行。我们为人们提供学习和适应所需的时间和空间。训练Krav Maga跟练习其他武术一样安全,在课堂上受伤的可能性跟任何其他的运动一样很小,甚至更少。
All our training is done in safe, controlled environment, with the highest safety standards. We give people the time and space needed to develop their skills and adapt to the learning. Krav Maga is as safe as any other martial arts form. If you follow the instructor's directions and mind the safety rules, the chances of being injured during a class are as remote and even less than for any other sport.


// 关于KMG要员/第三方保护专项训练
About KMG VIP/Third Party Protection Training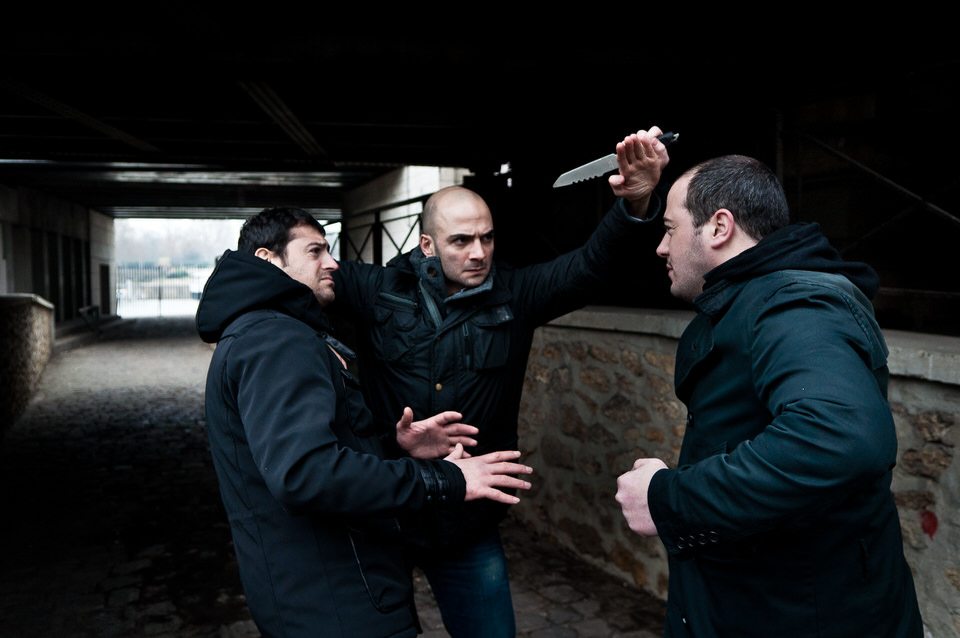 第三方保护或要员保护是马伽术培训的重点板块之一。KMG要员保护训练经历了数十年的发展,针对专业人士提供综合的培训项目。我们的专家教练为很多政府部门和私人客户提供近身保护人员(CPO)和安全团队的培训。我们训练近身保护人员的战术、技术、生理、心理的能力和技术,这些技术都是特别为在武装或无武装打斗场景下保护要员而设计的。
民用防身课程涉及对第三方(家庭成员、儿童、朋友等)的基本保护,因其系统的自卫原则和技术适用于保护他人。
Third Party Protection or VIP Protection is one of the pillars of Krav Maga training. For professionals, KMG VIP Protection Training provides a comprehensive program developed over decades of work in the field. Our Experts have trained close protection officers (CPOs) and security teams for various government sectors as well as private clients. We prepare CPOs with the tactical, technical, physical, and mental skills designed for the protection of a VIP in armed and unarmed combat situations.
In its civilian self-defense curriculum, KMG includes basic protection of a third party (a family member, child, friend, etc.), where principles and techniques for self-defense are applied to the protection of others.